Come celebrate the launch of my 2nd book during our 4th annual Right-Brainers in Business Video Summit – the must-attend virtual event for creative entrepreneurs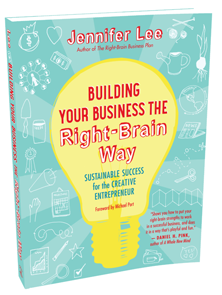 Come celebrate the launch of my highly anticipated second book, Building Your Business the Right-Brain Way, during my 4th annual FREE Right-Brainers in Business Video Summit.
This year's event is all about growing a profitable and lasting business on your terms.
Join me, a panel of inspiring entrepreneurial experts, and thousands of right-brainers worldwide April 7th-18th for practical and proven business-building resources that are as playful and passionate as you are.



We will also be joined live by special guests who will share their own inspiring success stories. See first-hand how they made their visions and plans real by taking action.

I want to make sure you and your business are here to stay, so that you can keep on sharing your special gifts with the world.

This is why I wrote my second book, Building Your Business the Right-Brain Way, which gives even more guidance, tips, and tools to help you expand your business, and more importantly, make sure it stays successful over the long haul.
Come join us and get the support, encouragement, and proven practices from successful entrepreneurial leaders who are making a meaningful difference while making some serious moola.




You'll learn the following and so much more:
How to diversify and maximize your moola-making methods over time (hint: building an sustainable enterprise doesn't happen overnight!)


How to grow a priority-based and highly profitable business, in less than part-time hours


Ways to promote your products and services with authenticity and ease


How selfies (yes selfies!!) can help you show up more fully in your business by boosting your self-compassion and confidence


Expert tips on leveraging Pinterest for your business from a multi-million dollar entrepreneur


Insider secrets on establishing infrastructure and procedures to keep operations running smoothly


Seasoned advice on how to license, market, and price your art


How 6-and 7-figure business owners have built their teams through the years (successful entrepreneurs don't go it alone!)


Practices to help you cultivate more flow, spaciousness, and stamina in your work and creative life

I've secured top-notch speakers who will share their best tips and secrets for growing a profitable and sustainable business.
And of course we'll infuse all the practical advice on sales and marketing, moola making, team building, and more with right-brain flair to make it fun and accessible. You can bet along with the meaty, actionable content there will be colorful visuals and lots of laughs.
Heck you might even shed a tear or two! It happens pretty much every year, it's that inspiring!
Going on its 4th year now, this leading-edge virtual event has become a
highly-anticipated and vibrant hub
for thousands of right-brainers worldwide
to connect, learn, and grow together.

Last year alone we had a record-breaking 23,000+ viewer hours
and participants from 60 countries!
Enjoy a proven learning experience. I refuse to cram dozens and dozens of speakers into an overstuffed summit that drags on… and on… and on… You know you've signed up for those before and just ended up feeling overwhelmed and guilty because you weren't able to keep up with all of the info being shoved at you.
Nope, we know that doesn't work for ya and that you've been jaded by that anyway.
Instead during these engaging and fun 2 weeks, you'll experience fresh, focused, and highly interactive sessions that let you integrate digestable learning at a do-able pace.
You don't just get to hear from experts but you get to SEE and experience them up close and personal. We'll be on Livestream video chat so it's like you're right there with me and the speakers.
This community of right-brain entrepreneurs is a super-engaged bunch. In fact, we've been known to be soooo active in our online, real-time discussions that we've actually crashed the chat room on occasion
but don't worry, we don't let techno snafus stop us!
This robust learning environment makes it super easy for you to ask questions, contribute to the conversation, and take concrete action.

And did I mention already that you get all of this for absolutely FREE?!
Of course if you want more personal guidance and coaching from me and to connect with fellow right-brain entrepreneurs committed to success, you can upgrade to a Premium Pass which includes group coaching sessions, a private facilitated online community during the summit month, and more.

Attendees from the past summits were so thrilled to discover a new way of working that spoke to their hearts (and heads). Here's what some had to say:
Compared to yours, other business summits were just plain boring!
"I just wanted to say that I am thoroughly enjoying your Right-Brainers in Business Video Summit. I have signed-up for lots of business summits in the past and compared to yours, they were all just plain boring!
I appreciate how organized, informative and effective the RBBiz is
… the tech support, the presentations, the show and tell component, the interviews, the branding… everything! I am buying your book TODAY!
You have secured a loyal inspired fan with your vibrancy and professionalism
."
— Tricia Hurtubise, Storyteller and Cartoonist
The best, and maybe only of it's kind! Rocked my world!
Amazing! Filled with so much information, links, and gems
"I have been listening to the recorded versions daily of your summit and I am truly impressed. It is always a pleasure to listen to your wonderful advice and to know that
there is someone who understands the creative side of business
. I am very pleased with the
quality and incredible organization
of your 10 day summit. Amazing! Technically it is superb and it's filled with so much information, links, and gems. Thank you so much for doing it."
— Ruth Loewenhardt, owner of Elegant Ergo, www.elegantergo.com
I know you are ready to make your big visions real and to start making more money doing what you love!
So, make sure to grab your spot and join us. And hey it's FREE so whaddya got to lose?